Despite various technical issues, PokerStars' ONCOOP exceeded its promised prize pool by 13.5%, resulting in a total prize pool of $1.94 million.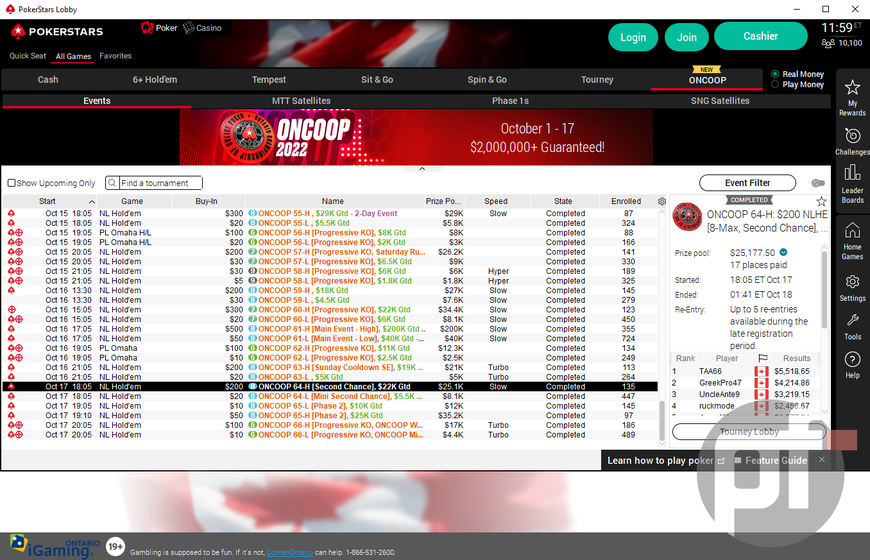 Last night, PokerStars Ontario brought the curtain down on its first Ontario Championship of Online Poker (ONCOOP), with the event coming to a successful conclusion. Due to the fact that Ontario's regulated online poker industry is separated from the worldwide player pool, the series was restricted to Ontario online poker players participating in a ring-fenced environment.
A little over $2 million CAD was guaranteed over 66 events, each of which was divided into two categories — High and Low — for a total of 132 tournaments with buy-ins ranging from $5 to $2000. Each event had a minimum guarantee of $770 and a maximum guarantee of $200,000.
After more than two weeks of action, the series has concluded.
According to data provided by pokerfuse, the series earned approximately CAD $2 million in prize money and attracted over 27,000 participants over the course of 17 days.
Initially, the program had $2 million in guarantees divided among 132 separate events. However, a dozen games had to be canceled, and others had to be rescheduled, due to the room's many technical issues. This resulted in just 122 events running and the cancellation of $300k in guaranteed tournaments, resulting in a total series guarantee of around $1.7 million.
With $1.94 million granted in prize money, the total series guarantee was exceeded by 13.5%.
PokerStars ONCOOP Final Numbers
Total Tournaments Ran: 122
Total Prize Money Generated: $1.94 million
Average Prize Money per Tournament: $15,902
Total Entries: 27,754
Average Entries: 227
Biggest Entrants (Single Day Event): 724 — ONCOOP 61-L $50 buy-in [Main Event — Low], $40K Gtd
No. of Overlays: 23 (18.85%)
Total Overlay Amount: $77,044.30
Biggest Overlay: $32,440 — ONCOOP 61-H $500 buy-in [Main Event — High], $200K Gtd
While many events drew huge turnouts, players also enjoyed lucrative overlays in some events, including the two Mains. Event #61-H, a $500 buy-in Main Event promising an ambitious $200,000 guaranteed prize money, attracted a decent turnout of 355 runners but fell short by $32K.
Its Low-tier Main costing just $50, also missed its guarantee. The tournament promising $40,000 gathered 724 entries — the largest turnout for a single-day tournament — but still ended up overlaying by $7K.
Nearly two dozen events missed their guarantees, though most were small ones, leading to a shortfall of $77K.
The Phased Events, with buy-ins of $10 and $50 featuring several Day 1s, drew 1325 and 775 entries, respectively, comfortably sailing past their guarantees. Event #17-L, a $10 buy-in PKO tournament, drew 550 entries — the second-most popular event entry-wise, amassing a prize pool of $5K.
Meanwhile, Event #14-H: a $2000 Super Tuesday High Roller generated the second-biggest prize pool after 42 participants entered the tournament, creating a prize pool of $80.2K.
ONCOOP was dominated by the POKERSTARS ambassador
As previously reported, PokerStars Team Pro Arlie "Prince Pablo" Shaban won five ONCOOP championships for over $17,000 in total rewards. Three of his victories occurred within two days, as he won Events #41-L, #42-L, and #45-L.
While his amazing run continued and he reached additional final tables in the last week, he was unable to turn them into another victory. Over fifteen times, the Canadian poker streamer reached the final nine.
Source: pokerfuse.com